Procedure and the Basic Rules of the Festival-Contest
The Date of the MJF – Global Jazz Competition-2021 Final Round Holding
Holding of the final of the International Internet-TV Festival-contest of jazz improvisation skills «MASTER-JAM FEST GLOBAL JAZZ COMPETITION» will take place in the city of Kazan on September 17-20 2021. Competition days, as well as the award ceremony and a gala concert will be held in the State Big Concert Hall named after S. Saidashev.
The first final of «Master-Jam Jazz Fest 2013» was held in Odessa (Ukraine) and became the outstanding event of the International jazz community. You can read more about the results of the Master-Jam Jazz Fest – 2013 Final and find out the names of the winners here. Press-Release of the «Master-Jam» project is here, watch video broadcasts of all days of the festival-contest.
Contest program
Ensembles are formed from the MJF finalists by lot every competition day. Contest program of each of three days for each of the ensembles includes three themes: two of them are from the list of recommended jazz standards most often accepted in jam sessions, the third is a composition at contestants' discretion in the style of the competition day.
On the 1st day it is proposed to improvise on mainstream and bebop themes + composition at the discretion of the ensemble;
On the 2nd day — ballad and jazz rock (funk) + composition;
On the 3rd day — Latin jazz and fusion + composition.
Performance of one ensemble should not exceed 40 minutes.
Decision on the winners
By the results of each competition day, after performances of all the ensembles, the jury assesses musicians by all the musical categories by each of presented styles and put the aggregate rating mark of the competition day. By the aggregate results of all competition days, Festival winners are determined for each of the instrumental categories, and the best jazz ensemble of Master-Jam Fest is formed.
For example,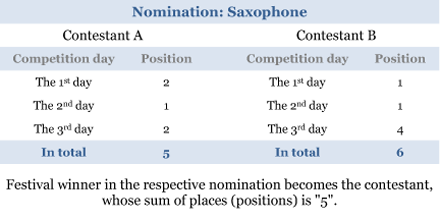 Grand Prix of the Festival is awarded to the participant of MJF final round, whose performance at the Festival-contest becomes the brightest event of the Festival.
Gala-concert
The Festival is completed with the Gala-concert of the winners. The concert program is opened by the combined big band «All Stars Band» featuring all the Festival finalists. Renowned Festival guests also take part in the concert program. In this day winners awarding and Grand-Prix handing is held.
Awarding of «Master-Jam Festival» winners
The Grand-Prix winner and the winners of the Festival-contest get memorable presents from partners and sponsors along with diplomas and prizes. Organizing committee is also considering the possibility of monetary rewarding of the winners and organization of concert tours for them. The decision regarding this matter will be announced before the contest final phase starts.
Check out the results of the Master-Jam Jazz Fest – 2013 Final.